Padmashri Darshana Jhaveri a classical Manipuri Dancer, Research scholar, teacher is one of the four internationally renowned Jhaveri Sisters, whose name has become synonymous with Manipuri Dance. She has dedicated her life to preserve, perpetuate and propagate the classicism of Manipuri dance under the able guidance of Guru Bipin Singh, who has blossomed her talent as a technically versatile and immaculate proficient dancer, having specialized both in Tandav Lasya elements of Manipuri dancing and drum playing. She has performed with her sisters all over India and foreign countries since 1958 and as a leader of the group since 1975 including Radio and television appearances, lecture demonstrations, workshops, contributing articles in magazines and news papers, seminars etc. She has collaborated with late Guru Bipin Singh by actually visiting Manipur since 1956 for more than 30 times, meeting various gurus learning collecting, recorded music and correlating the oral tradition with vaishnavite and Indian texts on dance and music, to create, to choreograph dance compositions within the tradition for the theatre. She has received blessings and appreciations from eminent Gurus of Rass and Sankirtan. In 1958 She and her sisters were the first non – Manipuris to dedicate their dances in the Govindajee place temple in Manipur.
The creative contribution of Jhaveri Sisters and Guru Bipin Singh has been to bring the traditional and classical dances of Manipur from the temples to the theatre without polluting its original form and spirit.
She is actively associated with Manipuri Nartanalaya at Bombay, Calcutta and Manipur in teaching, creative productions performances publishing 17 books, undertaking four major projects under Ford foundation. Received many honors and awards, most prestigious are Vishwa Gurjari Award, Ahmedabad, Nritya Vilas, Mumbai, Hon. Doctorate from City University of Los Angeles, Natya Praveena, Chennai, Nritya Mallika, Assam, National Sangeet Natak Akademi Award and Presidents Award Padmashri.
Making of a dancer and scholar
Since 1956 she has been regularly visiting Manipur for intensive study, research, performances, seminars, festivals and has received blessings and appreciation from various eminent Gurus of Ras & Sankirtan. She learnt the traditional Ras songs and dances from Sutradhari Kshetritombi Devi and Nata Pung (tal compositions and drum) from Guru Meitei Tomba Singh and traditional Maibi Jagoi from Kumar Maibi of Manipur.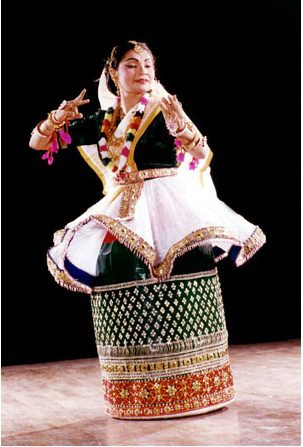 Darshana Jhaveri is one of the founder members of Manipuri Nartanalaya, established in 1972 in order to channalise all the above manifold activities at Bombay, Calcutta and Manipur. She undertook all projects under Fort Foundation grant of audio and video of dance course of 8 years, traditional dances and other dance compositions by Guru Bipin Singh, Microfilming of manuscripts on talas and songs, research work on traditional Rasleela songs and various publications.
Uptil now, Darshana has co –authored 5 books viz. Manipuri Nartan in Hindi & Bengali, Manipuri Tal Prakash on Manipuri, Tal System in English, Shastriya Manipuri Nartan in Hindi and Bengali. She has contributed articles, helped considerably in editing the Marg Publications on Manipuri Dancing in 1961 and 1990. She has written introduction for books edited by Guru Bipin Singh like Vaishnava Sangeet Shastra Part I, & II (Hindi & Bengali), Panchamsar Sanhita (Hindi & Bengali), Manipuri Nartane Tal – o – Alankar (Bengali) and Manipuri Geet – Malika (Bengali).
For last 50 years she has extensively toured all over India and foreign countries privately as well as under Government Cultural Delegations. Apart from Manipuri Nartanalaya (Bombay, Calcutta & Manipur), she has been examiner for theory and practice of Manipuri Dancing at Bathkhande Sangeet Vidyapith (Lucknow), Bharatiya Nritya Kala Mandir (Patna), Banasthali Vidyapith (Rajasthan)